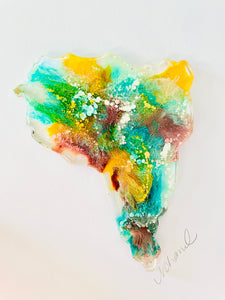 Colorful resin North Carolina arrives framed in white shadow box for a unique piece of wall art. Its just the right amount of color for any room in your home. The alcohol ink technique used produces uniquely different colors and results making each one of a kind as no two will ever be the same. The art resin and alcohol inks react with each other to create blooms and bursts of color. 
Any state and color combination can be custom create, but no two pieces will be the same. If you would like to place a custom order, send an email or DM us on Instagram. 
White shadowbox measures 9x9 in.
Instagram: Rusticaura