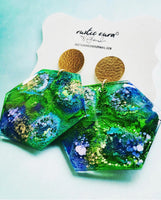 Resin Earrings
Looking for a bold fashion statement that is lightweight? Explore the handmade resin earring page to add a beautiful pop of color to any wardrobe. 
Geographical Wall Art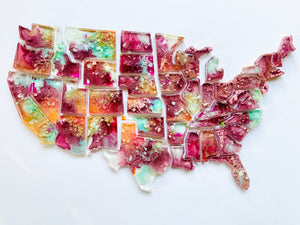 Resin United States of America
Resin USA geographical map represents each of the states except Hawaii and Alaska. Each piece is carefully coated to create a glass effect.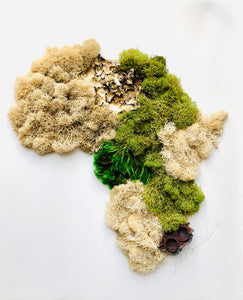 Mixed Media Moss Africa
Displaying the shape of Africa, this piece incorporates various organic and natural materials for a more earthy look.     
Resin States (North Carolina)
State of North Carolina framed wall art. The art resin and alcohol inks react with each other to create blooms and bursts of color.
I received my initial key ring in the mail and I love it! Very vibrant colors. Thank you!

Chantae S.
Beautiful African wax print clutch bag that can be easily used for various events. It feels tailor-made just for me! An ode to my heritage. 

Olamide A.
I love my resin coaster set. The colors are so vibrant and all I have to do is wipe them with a damp cloth to clean! I already own three Rustic Aura sets.

De'Les M.